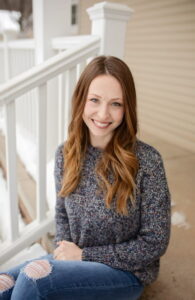 Infinity now offers physical therapy services through Kirsten DesMarais, PT, DPT, OCS.  Kirsten is Board Certified in Orthopedics and specializes in the treatment of:
pregnant and postpartum athletes  

core and pelvic floor dysfunction

spine, hip, low back, pelvis pain management
Kirsten is skilled in a wide variety of manual therapy treatments including trigger point dry needling, myofascial release, and spinal manipulation.  Some of the issues she can treat include:
Pelvic Health
Pelvic girdle pain in pregnancy
Incontinence
Urgency
Pain with intercourse
Endometriosis
Pelvic pain
Abdominal pain
Orthopedic
Spine conditions & back pain
Hip & groin pain
Knee pain
Shoulder pain
Post surgery
Headaches & neck pain
What to Expect:
All new clients will undergo an initial evaluation including a review of medical history, current concerns, and goals for their experience in PT. A combination of hands-on care and tailored exercise prescription are offered at each visit. Telemedicine visits are also available! Personalized check-ins between appointments and easy to use home program technology will keep you engaged and progressing through your care. If you are a birthing person and on bed rest or are postpartum, contact Dr. Kirsten about a home visit!
When working with Dr. Kirsten you can expect:
A detailed and individualized service aimed at keeping you moving through life and achieving your optimal health.

​

A combination of manual therapy and movement to be included in the treatment of both orthopedic and pelvic floor conditions. 

Help if you struggle with back pain, pregnancy related concerns, weakness, discomfort, or trouble staying active
Collaborative care and openness to working with interdisciplinary providers to address your needs.
To learn more about how Kirsten's services could help you, schedule a complementary Discovery Session! This is a 30 minute telephone consult.
Pricing:
Discovery Session: Designed for you to learn more about what offer and determine how we can move forward together – FREE
Evaluation: New Patient, 60 min. – $175.00
Follow up visit: 60 min. – $150.00
​5 Session packages are available : 5- 30 minute sessions (valued at $400) -$350
                                                                         5-60 minute sessions (valued at $750) – $650
Prenatal Package: 1 Evaluation, 1 treatment session, 1 90 min. birth prep session (valued at $500) – $400
Postpartum Package: 1 Evaluation & 2 follow up sessions (valued at $475) – $400
FAQs
Do you accept my insurance?
Dr. Kirsten provides self-pay physical therapy. This means that you pay on the date of service. This model is different than traditional in-network, insurance based care and allows you to experience exceptional care without any surprise medical bills afterwards. There are different packages or "pay as you go options" to choose from in order to find the right fit for your needs. We accept all major payment methods including HSA or FSA. We can also provide a "Superbill" for you to directly submit to your insurance for out of network benefits. Dr. Kirsten is not a Medicare provider and cannot legally provide a Medicare recipient with "normally covered services". If you are a Medicare beneficiary seeking services, please contact us for more information.
Do I need a doctor referral?
In MN, you can legally receive physical therapy services for 90 days before needing a doctor's order.