Massage Services
At Infinity Massage & Wellness, each massage is tailored to your specific needs with no extra charges for getting the massage you want.  Our therapists are trained in variety of massage specialties such as:
General Relaxation – Relieve stress, relax and renew.
Deep Tissue – Focuses on deeper muscle tissue to release chronic muscle tension.
Pregnancy – Provide body cushions for your comfort and also do side-line depending on your stage of pregnancy and individual needs.
Injury Specific – Promotes faster healing of soft tissue injuries and can reduce pain.
Sports – Can focus on particular muscles specific to a sport or training program, incorporate stretches or work on sports specific injuries.
Couples Massage-Couples can receive a massage in the same room at the same time.
Each massage may include heated table, hot towels, hot packs, essential oils and tea or water.
Infrared Sauna
Hot Stone Massage – Heated basalt stones are used to massage your body.  The stones are then placed on key points of your body for deeper relaxation.  The heat of the stones feels amazing in the muscle tissue. This session is very grounded and relaxing.
Cupping – The practice of cupping has been around for centuries.  The cups create suction on an area of the skin either by fire or a hand pump cup.  The cups will then stay on for 10-15 minutes or they may be slid across the skin to break up deep scar tissue or knots.  Cupping brings blood to the surface to promote healing, or dispel the stagnation in that area. Just a note that this may cause circles and bruising on skin.    *Not be done on individuals while pregnant, with broken bones or on their period.
CBD Massage – CBD massage is a holistic way to heal and treat your body.  Your massage therapist will use only CBD products we sell in our retail space during your regular massage time.  We support two local vendors: Modern Medicine and Superior Greenworks.  We may also use Roots Apothecary and Smart Organics.
The cannabinoids in CBD massage oil help to reduce inflammation and soothe muscles.  This makes it even more effective at providing relief.
Good for Your Sole

Delight in the extra time on your feet. We start with hot towels, then apply Locust Grove Sugar Scrub which is massaged in to the lower legs and feet, more hot towels  and WildRoots Foot Reparative foot balm. Your feet feel amazing and energized!
Gua Sha – Is a body and face scraping technique.  It's a part of the system of Traditional Chinese Medicine with mentions in the Shanghan Lun, a Chinese medical text on illness from BC 220.
The literal meaning of gua sha is "to scrape sand," which refers to the light, speckled bruising on the skin after a treatment. In Traditional Chinese Medicine, gua sha is believed to move blood and Qi (life force or energy flow in the body)
The most common conditions and symptoms treated with gua sha include: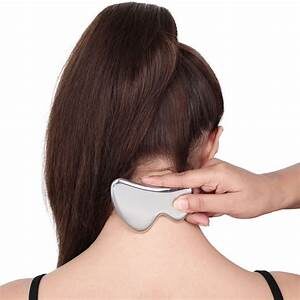 back pain
shoulder and neck tension
carpal tunnel syndrome
tennis elbow
poor circulation
scar tissue
In Traditional Chinese Medicine, pain and illness can be caused by blood stagnation or a blockage of Qi. Gua Sha causes the blood and energy blockages to disperse, allowing the free flow of both within the body.
Gua Sha also breaks up adhesions in our connective tissue. These adhesions can form after injury or surgery or because of poor posture and tension in the body.
Gua Sha causes light bruising called "Sha" that can vary from light pink to red and even purple. In some cases small blisters may form. If bruising does appear (which isn't always the case) if can last from 1-7 days.
Ear Candling – Simple and effective way to gently remove excess wax and toxins from the ears.  This is a very relaxing, cleansing and non-invasive treatment. Long tapered hollow candles are lit and placed in ear canal.  A therapist is with you the entire session using essential oils to work the head, face, sinus and lymph system.
Raindrop Technique-The Raindrop Technique is a method of using a combination of reflexology, aromatherapy, massage techniques, and essential oils applied on your spine and on the feet. High quality essential oils are placed on the reflex points on the feet where the spine is represented. The Raindrop Technique is designed to bring balance to the body with its relaxing and mild application. The Raindrop Technique is a gentle application of essential oils and massage.
Facial, Waxing and Tinting Services
Infinity is excited to now offer a full range of esthetic services including facials, tinting and waxing. All services are performed by Advanced Esthetician Chelsea Moe. Click to learn more.
PT Services  
Doctor Kirsten DesMarais has joined the team to learn more click here.
Please Note:
The above service are not provided by all therapists.
Your treatment time is reserved especially for you.  We ask that any changes or cancellations be made at least 24 hours in advance, out of respect for our therapists time and energy. Cancellation fees will be applied.
Please arrive 15 minutes before your scheduled session in order to fill out a client health intake form.  This also gives you a chance to meet your therapist and relax your mind and body before your massage session starts.