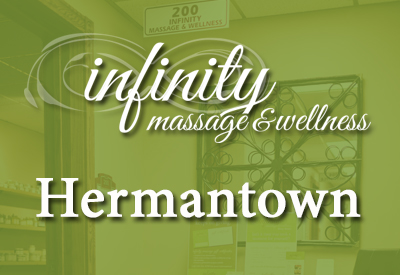 Infinity Massage & Wellness has been serving clients since 2014. Located in Gordy's Plaza at the corner of Hwy 53 and Stebner Road, Infinity's Duluth(Hermantown) office is just minutes from the Miller Hill shopping district.
Infinity features 8 treatment rooms, including 2 rooms dedicated to couples massage and a Infrared Sauna room. We also offers a large retail section featuring natural body products, organic chocolates, gift cards and more! This location is open 7 days a week, offering day, night and weekend appointments.
Free parking is available onsite in the lot.
To get to our offices: 
Our address is: 4897 Miller Trunk Hwy, Ste. 200, Duluth, MN 55811
Enter the building through Door 6.  This door is to the left of Studio 7 Tattoo's.  Go upstairs, take a left and Infinity is at the end of hall.
Gordy's Plaza is handicap accessible. If you need an elevator, park in front of Peak Fitness and enter through Door 3.  You will find the elevator to the left of mailboxes.  Take the elevator to the second floor, exit and take a left, then right, then left and another right.
Bathrooms are located next to the suite.