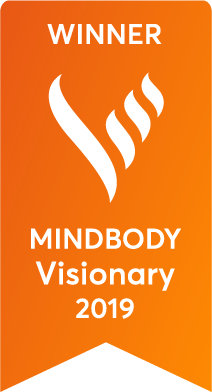 Infinity Massage & Wellness has been honored in the second annual MINDBODY Visionary Awards, given for business excellence in fitness, beauty and wellness industries.  
 "The Visionary Awards are our way of celebrating the business owners we serve, for both their hard work and for how they lead the charge of helping people live healthier, happier lives," said Rick Stollmeyer, MINDBODY CEO and co-founder. "Our commitment to connecting the world to wellness starts at the local level, and our honorees deserve special recognition for their continued dedication and business achievements."
Infinity Massage & Wellness has been serving the wellness needs of the Twin Ports since 2014. Infinity offers therapeutic and relaxation massage services from their location in Hermantown's Gordy's Plaza. Employing a staff of 21, including 17 professional massage therapists, Infinity is able to tailor each massage to the unique needs of the client, including specialties like deep tissue, pregnancy, sports/injury specific and couples massage. In addition to massage, Infinity offers an infrared sauna, reiki and other services, as well as a wide variety of natural retail products making it a destination for a complete wellness experience.
"We are honored to be recognized again by MINDBODY with this award," said Infinity co-owner Michelle Wall. "MINDBODY has been a great asset to our business making it easy for clients to find us and book their massage appointments. We love that it inegrates with our website and allows us to manage so many aspects of our business in one place. We look forward to growing our business with MINDBODY in the years to come."
The MINDBODY Visionary Award is given to businesses who have an average monthly revenue in the top 25% of all MINDBODY and Booker customers between January and December 2018.
About Infinity Massage & Wellness
Infinity Massage & Wellness is dedicated to helping clients relax and renew through massage therapy. Founded in 2014 by co-owners and massage therapists Michelle Wall and Lauren Williams, Infinity's team has grown to 21 members, including 17 professional massage therapists, an office manager and 3 receptionists. Infinity is conveniently located in Gordy's Plaza in Hermantown which features 8 treatment rooms.
About MINDBODY
MINDBODY, Inc. is the leading technology platform for the wellness industry. Local entrepreneurs worldwide use MINDBODY's integrated software and payments platform to run, market and grow their businesses. Consumers use MINDBODY to more easily find, engage and transact with fitness, wellness and beauty providers in their local communities. For more information on how MINDBODY is helping people lead healthier, happier lives by connecting the world to fitness, beauty and wellness, visit mindbodyonline.com.