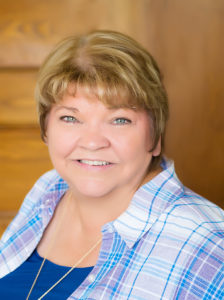 I've been doing massage therapy for 8 years now. Worked for a B&B right after I became certified in massage therapy from Duluth Business University (DBU) in 2011, then worked for Massage Envy (2014) and began with Infinity Massage and Wellness in 2017.
I enjoy helping people become stress free and seeing their aches and pains melt away. I really enjoy working the neck and shoulders as this seems to be the area needing the most work lately. Now a days almost everyone works at a desk in front of a computer with their shoulders hunched and straining their necks to see their monitors, not taking breaks as they should or stretching their shoulders and necks often enough.
Stretching Tip: One good stretch is to bring your chin to your chest and hold for a few seconds. Then lift your chin up toward the ceiling and hold for a few seconds. Next, bring your right ear to your right shoulder and hold for a few seconds, then do the same on the left side. Do this throughout the day as often as you want or need.
The other area of massage I enjoy doing is Reiki (pronounced RAY-KEY). Rei – means Universal, Ki -means life energy. I am a level two Reiki practitioner, trained by Reiki master – Erin DeWitt from Duluth
Reiki is a form of energy work rediscovered in the 1800's by Dr. Mikao Usui a Japanese born Buddhistmonk who handed down his teaching thru his students for many generations. It is often described as palm healing or hands-to-body healing in which the Reiki practitioner places hands lightly on or over a patient's body to facilitate the patient's process of healing
Reiki can help with issues such as Anxiety, Depression, Stress, Fatigue, Blood Pressure, Pain, Memory and Behavior, and Healing and Growth to name a few. I personally have been able to help clients with issues such as back pain – even helping a dog with discomfort. Reiki is great for pets too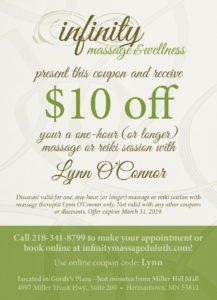 Come and see me at Infinity Massage if you would like to have relief from stress or pain via a massage or Reiki session. Now through March 31st, book a 1 hour (or longer) massage or reiki session with me and receive $10 off! Book online with coupon code "Lynn."
Looking forward to having you as a client!
Lynn O'Connor